Athens Speedway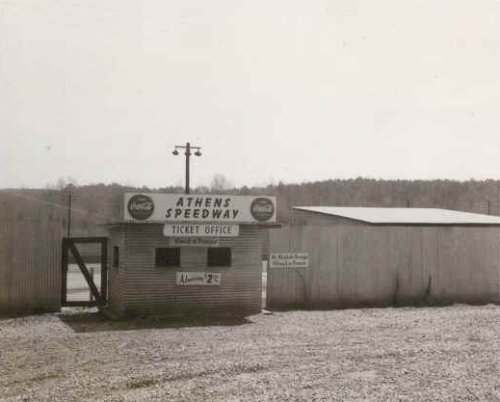 The Athens Speedway was built during the winter months of 1958, and soon became one of the most popular tracks in Northeast Georgia.
Built near the Clark and Oconee County line in Athens, Georgia, the track hosted Super Modifieds, Amateurs and, in their heyday, the famed Skeeters that raced all over the southeast.
Legendary drivers such as Tootle Estes, Bud Lundsford, T.C. Hunt, Sam McQuagg and Herman Wise were winners at Athens.
Portions of the film "Greased Lighting" were filmed on the track in the mid 1970s.
The track closed in 1992. Much of the track's equiptment, including the scoreboard, fence, light towers and even the clay are now at the Hartwell Speedway near Hartwell, Georgia.
Here's a look at the track during some of it's best times:
And here's what the track looks like today:
I recently had the opportunity to visit the old speedway with members of GARHOFA recently, including Mike Bell, Chris Rutledge and Hugh Blackstock. Here's what the track looks like from ground level:
---
Questions, comments, suggestions? Email us!
This website is not affiliated with or endorsed by the Georgia Racing Hall of Fame or the Georgia Auto Racing Hall of Fame Association, Inc. All content is the intellectual property of the individual authors. All opinions are those of the individual authors. Please do not repost images or text without permission.