Jackson County Speedway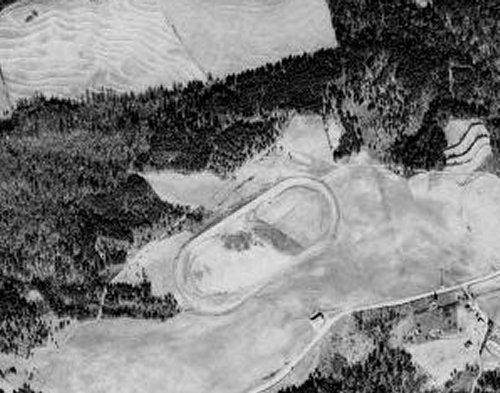 Opened in 1947 near Jefferson, Ga., this half mile speedway was a favorite for north Georgia racers. Track owner Gene Hollis, a former Georgia State Patrolman, built the track hoping to attract some of the fastest and best drivers from the south.
In May of 1948, rising NASCAR star Swayne Pritchett was injured in an end-over-end crash just after taking the feature win in an outlaw race at the track. Pritchett died shortly thereafter at a nearby hospital.
Following two more accidents that took the lives of spectators, the track closed around 1951. Here's a look at the track via surveyor's aerials over the years:
Around 2000, work began on the Damon Gause Bypass, connecting Athens to I-85 via Jefferson. The path of the bypass cut right across the front and backstrech of the old speedway, cutting it in half.
Here's a look at what the track looks like today:
Check back at Georgia Racing History.com in a few weeks for a full story on the Jackson County Speedway, including rare color photos of racing action from the track!
---
Questions, comments, suggestions? Email us!
This website is not affiliated with or endorsed by the Georgia Racing Hall of Fame or the Georgia Auto Racing Hall of Fame Association, Inc. All content is the intellectual property of the individual authors. All opinions are those of the individual authors. Please do not repost images or text without permission.